Youth projects kick-off the Festival of Code 2015
Posted on 27th July 2015 by TBrit Staff

Today has seen the start of the Festival of Code 2015, a hackathon and a celebration to inspire young people to get involved with programming and app development. Across the country, groups of people aged 18 and under have gathered together for a week of challenges organised by Young Rewired State (YRS) and their sponsors.
The Festival is an international competition organised from the UK to get give young coders a focus for their activities and to get others interested and involved. The scheme is seen as one of the ways to solve the skills gap in application development.
Young entrepreneurs
The youngsters will be forming into groups over the next five days to create websites, apps, games, algorithms or hardware hacks  using open data. The results from each of  the 66 regional events around the world will be showcased in Birmingham's International Convention Centre (ICC).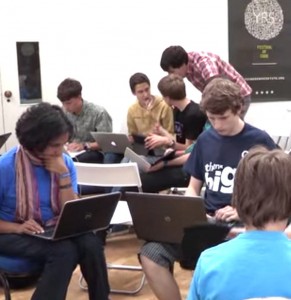 This is the true festival where daytime activities include heats, semi-finals and finals to choose the best idea from the regions. There are also mini hacking challenges and demonstrations in a fully-interactive Makerspace to keep the coders entertained. For those staying overnight, accommodation has been provided at the universities of Birmingham City and Aston.
The idea of YRS is to create a community of coders across the country who can form friendships and attend clubs where they can hone their development skills and learn from one another.  The events are free to attend to ensure that anyone can benefit regardless of their background. It could even become an incubator for programmers of the future or create a few startups.
YRS encourages its members to open source their code so others can use subroutines or learn from new programming techniques. A network of mentors and volunteers are also available to ensure the YRS-ers get the most from their experience.
This year, 1,200 under 18s are expected to attend and it is expected that 30 per cent will be girls. Since its inception in 2009, this percentage has increased from two per cent.