Four days to put your area on the TechBritannia map
Posted on 20th July 2015 by TBrit Staff

With just four days to go, our Tech Torch Tour crowdfunding project is going well but could do better with your help. Our aim is to put the focus on the whole of the amazing tech scene in the British Isles. To do this, we want to visit the hubs of tech startups, the research teams in our universities, and the companies that have already established a presence in the world market.
In three weeks, we have already reached number 15 in the Most Funded section of the Crowdfunder website and we want to go higher before the week is out. Helping us means that you can help yourselves to some of our stunning merchandise while at the same time promoting the companies in your local area.
Financial advantage
Our aim is to raise £10,000 to enable us to break out of London and visit the movers and shakers in at least 10 areas across the UK. Any region that raises £1,000 will automatically be placed on the itinerary. For example, the island of Jersey has already reached this target and we will be paying them a visit to find out more about the incredible startup ecosystem that has sprung up there.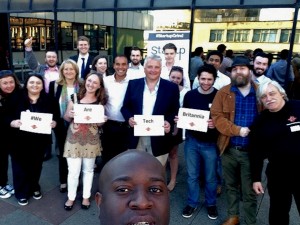 We did a quick country tour where we visited nine cities in 80 hours and the Bailiwick of Jersey was our first port of call. To be honest, we were a bit sceptical about what we might find there, but it turned out to be a revelation. Jersey is not part of the UK, it's not even a full member of the EU. It is a Crown dependency, which means it has its own constitutional rights for self-government and judicial independence – but that does not mean it's entirely independent of the UK. This unusual situation of not being independent of the UK while not being part of the UK has brought significant benefits not just to Jersey but also to Guernsey and, to a lesser extent, the Isle of Man.
Self-government has allowed Jersey to create its own fiscal laws which have made it something of a tax haven for wealthy individuals and organisations. In turn, the presence of a moneyed elite has attracted several financial institutions. This means a robust 1Gb fast broadband infrastructure and a mobile network has been created by JT (Jersey Telcom). The combination of potential investors, financial organisations and digital telecoms engineers has led to the formation of Digital Jersey (DJ) to support the growth in tech startups, primarily in FinTech and telecoms.
Jersey may be an exceptional region, but it shows how tech is thriving everywhere. Visit Margate, Croydon, Abertillery, Falmouth, Dumfries, Selkirk, Belfast, Middlesbrough, or Lancaster and you will find tech companies thriving there. Who are they? What are they doing? How are they contributing to research, the economy and the image of the UK as a driving force in the world of tech?
The answer is that few know because by and large these organisations fail to get a hearing outside their local newspapers. TechBritannia wants to get out there and talk to them to show what they are doing and the Tech Torch Tour is one way to ensure we are aware of what is going on in your area and to take your local success to the next level.
You have seven days to make a difference. Please click here, choose an option, and help your local tech heroes.