ARM's new generation chips for hi def visual experiences
Posted on 30th May 2016 by TBrit Staff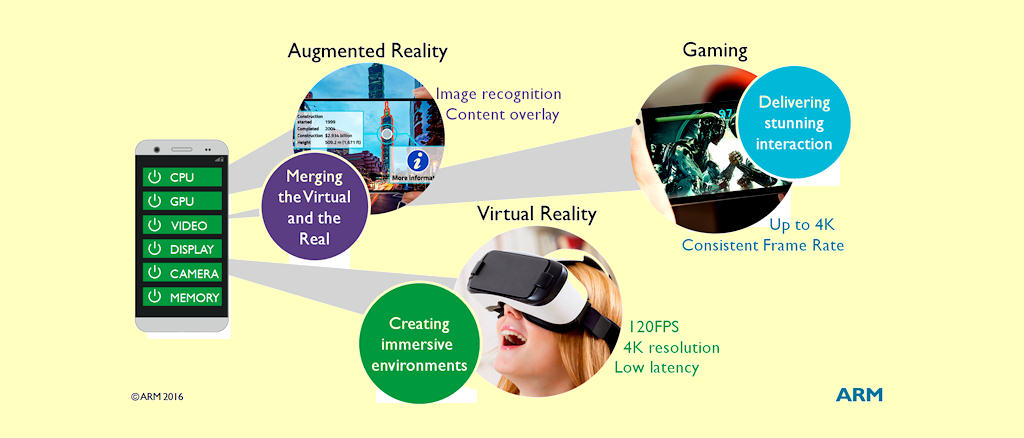 ARM will be pushing ahead into new realms for mobile devices in 2017. The company has announced its Cortex-A73 processor architecture and Mali-G71 graphics processor unit (GPU) to offer greater performance to move more data around even-thinner, more functional mobile devices of the future.
The company said that next year's release of these chips will support  increasing demands for larger volumes of data to be operated on and moved between processors, cameras, displays and memory as new technologies such as Virtual Reality (VR), Augmented Reality (AR) and the playback and capture of rich 4K content are introduced.
Three targets
ARM set itself three main aims when developing the linked chips: the delivery of lower memory latency to provide a high frame rate for more natural VR and AR experiences; higher peak bandwidth to accommodate the increase in pixels and frame rates for 4K, high dynamic range (HDR) content and higher megapixel counts from single or multiple cameras; and improved memory efficiency to achieve all this using the same or lower power consumption as the current processor range.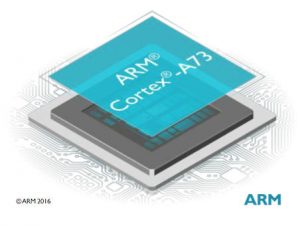 Pete Hutton, executive vice president and president of product groups at ARM, said, "The smartphone is the world's most ubiquitous compute device, offering experiences that improve with each new product generation. In 2017, we will see devices with the Cortex-A73 and Mali-G71 processors that stand out thanks to their impressive and sustained performance, and even more stunning visuals. This technology can make engaging with 4K video, virtual reality and augmented reality an everyday experience on a mobile device."
The Cortex-A73 will supersede the current Cortex-A72 to become the smallest and most efficient processor in the range using ARMv8-A cores. Using 10nm FinFET process technology to offer less than 0.65mm2 per core, the microarchitecture will give a 30 percent uplift in sustained performance and power efficiency over the A72, the company claimed.
For the first time, the company is talking about improved sustained CPU performance rather than peak performance. This should be good news for gamers, video watchers and users of other applications that require longer usage. Previous CPUs have been designed for bursty use where an app or two are used for a short amount of time at a high clock speed. For sustained use these chips slow down noticeably but the A73 will maintin its speed. What effect this may have on power usage has yet to be determined in real-world applications.
ARM said it expects to see the A73 CPUs combined with other CPUs in the Cortex range in SoCs (systems on a chip) produced by its partners – what it calls Big.Little configurations. 10nm-based smartphones and other mobile devices should be shipping in early 2017 but some A73 SoCs may be produced on older 14nm or 16nm processes. All of this could result in various performance level differences from different mobile device manufacturers.
Richer graphics
The new Mali GPUs have been built on a different architecture to previous generations, Bifrost. This promises a 50 percent increase in graphics performance, a 20 percent increase in power-efficiency, and 40 percent more performance per mm2, the company claimed.
The architecture allows the Mali-G71 to scale up to 32 shader cores to improved rendering speeds for graphics applications. This is twice as many as in the previous generation, Mali-T880.
With the recent acquisition of Apical, ARM is moving into a more visual-oriented world with technology that will allow next generation devices to understand and act intelligently on information from their environment. AR and, especially, VR applications will require the higher graphics performance offered by the G71.
Niklas Smedberg, technical director for platform partnerships at Epic Games, commented, "VR is one of the most important technological breakthroughs for the gaming industry in a generation. The ability to deliver a compelling VR experience on all platforms, but especially mobile, is critical for the industry's continued growth and advancement. To enable a great mobile VR experience, devices need to be the highest performing and most energy efficient available."
ARM said that leading silicon providers that have lready taken licences include Samsung Electronics, HiSilicon, and MediaTek.
Further technical details can be found on ARM's community blog.