Science Museum's KickStarter welcomes Eric Robot rebooted
Posted on 20th May 2016 by Eric Doyle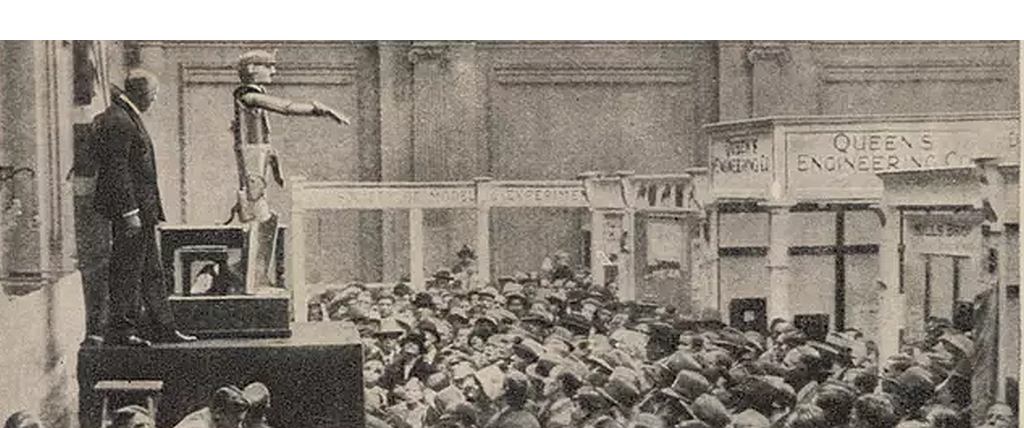 Science Museum curator Ben Russell has started a Kickstarter campaign to raise funds to recreate Eric, Britain's first robot. The robot will form the centrepiece of the upcoming Robots exhibition in February next year.
Eric Robot hailed from Gomshall, near Dorking. He was a mechanoid forged from aluminium in the first blaze of interest in robotics following the coining of the word 'robot'. Czech writer Karel Čapek used the word roboti in RUR, a popular play he wrote and produced in 1920. RUR stood for Rossumovi Univerzální Roboti (which was anglicised to Rossum's Universal Robots) and, in acknowledgement of Čapek's play, these initials were emblazoned on Eric's chest.
Model guest
The original Eric was created for the start of another exhibition, the Society of Model Engineers' annual exhibition, to open the show. Captain W H Richards and A H Reffell constructed the robot which was described as being "quintessentially British". Eric was taken to the USA in 1929 where he was hailed as an "almost perfect man" by one newspaper but, after a few appearances, nothing is known of whether he returned to Britain or not.
Eric's eyes were white light bulbs with red-painted pupils. His feet were fastened to a box which housed a 12-volt motor. Another motor was located in his body with 11 electromagnets and about three miles of wiring. He could stand or sit, move his head and arms. His movements were controlled by voice commands and he had an inbuilt radio so a hidden person could give him a voice and answer 50 or so fixed questions to make him more believable. If a questioner asked any other question, Eric would politely reply, "I do not know, sir/madam" depending on who was asking.
At the opening of the exhibition, he stood up, bowed, looked right and left, gave a four minute speech complete with appropriate movements, and then sat down again.
The Kickstarter appeal to raise £35,000 will last for another month and offers a thank you video from Eric, a specially designed T-shirt, a laser cut model of Eric and other reward packages.