Scottish pupils help Epson to pedal printers
Posted on 18th April 2015 by TBrit Staff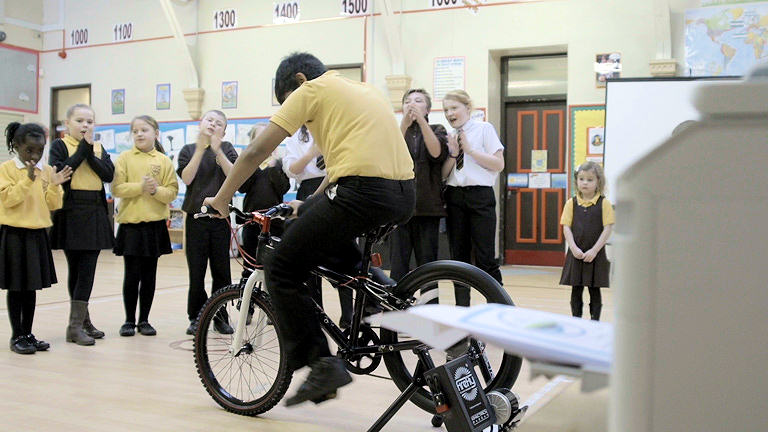 School children in Scotland are being told to get on their bikes if they want to print documents. Dumfries and Galloway Council has acquired six Epson printers connected to generators driven by bike power to graphically demonstrate to pupils the importance of energy efficiency.
The printers will be installed in 120 schools in the council's region on a rotational basis so that children can get some idea of energy conversion and consumption.
Printer power
The project is partly educational for the pupils and partly commercial to show the high human energy input to feed the low energy requirements of Epson's WorkForce Pro WF-5690 printers. The company claimed the printers require 80 per cent less power than most laser printers in use by many Scottish schools.
The company unveiled the concept of human-powered printers just under a year ago at a press launch in Vienna to demonstrate the low-energy requirements of the printer. The new move puts an advertising gimmick to good practical use.
The WorkForce printers have been connected to a dynamo on each bike and it claimed that five seconds of pedalling could provide sufficient power to print one page – depending on how hard the rider pedals. The council has estimated that replacing every printer in every school with the Epson Workforce Pro WF-5690 would save nearly a quarter of a million pounds over a five-year period.
Each school will have the bike-printers for up to two weeks and all have been challenged to look at issues around energy consumption, the use of printing, and the full life-cycle cost of a product beyond its purchase price. The schools will produce reports based on their experience of using the bikes and the best analysis of how printer use can be improved will be rewarded by allowing the school to keep their WorkForce Pro bike-printer.
Who knows, maybe some entrepreneurial company may develop the idea to produce an exercise bike that recharges mobile devices to unleash a new source of renewable energy while tackling the problem of child obesity – "If you want to use your phone tomorrow get on your bike and charge it up".
Scotland has set a target of reducing its CO2 emissions by 42 per cent by 2020. Larann Foss, education officer for schools estate and ICT at Dumfries and Galloway Council, said, "In our quest to achieve ambitious carbon targets in Scotland, projects like this take us another good step towards our goals whilst having the additional merit of preparing the next generation to be more aware of the environmental challenges we face."
David McKie, a councillor for North West Dumfries, praised the project. He commented, "I can assure you that the children will not print out any more than they have to from now on, because it's hard work. A key priority for our council is to provide the best start in life for all our children, and we are committed to reducing our carbon emissions."
He added that the initiative will let the children see just how much of their energy is required to print a document and, by linking increased physical activity with sustainable energy use, the children will be much more aware of the energy supply that many take for granted.