Pyrofab cleans up energy production with baby wipes
Posted on 28th July 2015 by TBrit Staff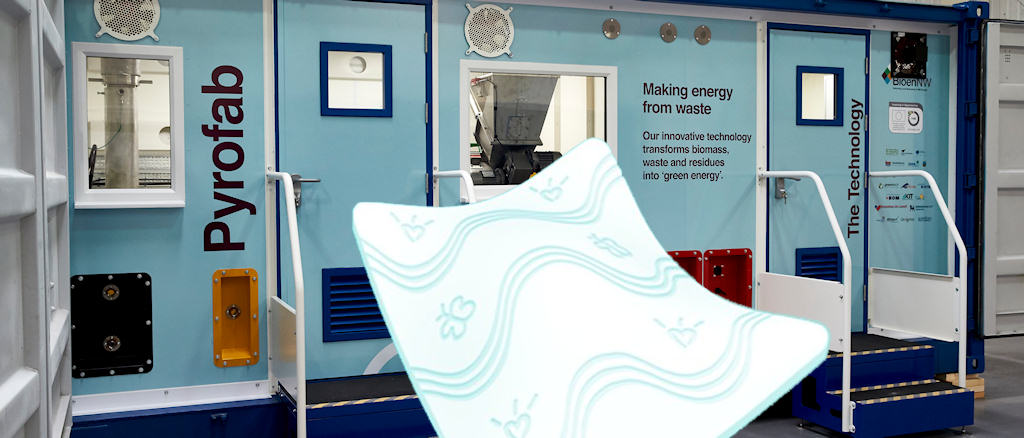 Baby wipes and other waste products often find their way to landfill sites but pioneering work at Aston University in Birmingham is unlocking the potential to generate power from the things most people throw away.
The researchers are hitting the road with a mobile version of their pyrolysis process, based on a technique that has been used since ancient times for converting wood into charcoal, to show how recycling can be extended with the added benefit of an income from power generation.
Energy boost
The Pyrofab prototype is a compact unit that fits into a shipping container which will be taken to four locations around Europe – France, Germany, the Netherlands, and Sweden. The Midlands university team intend to demonstrate how the technology can boost the bioenergy market, which will have a UK value of £12bn within the next 10 years.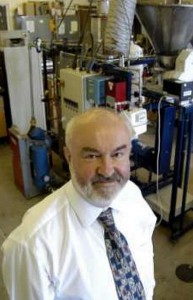 The project has been funded under the European Bioenergy Research Institute (EBRI) BioenNW initiative, a €7.9m (£5.6m) cross-border plan promoting the wider adoption of bioenergy in regions of North West Europe to reduce carbon emissions, improve energy security, and increase employment opportunities. The BioenNW project has 11 European partners throughout North West Europe.
Professor Tony Bridgwater (pictured), director of the European Bioenergy Research Institute (EBRI) at Aston University, said, "When you think about our future energy security and sustainability, baby wipes and leftovers might not be the first things that spring to mind. Through the BioenNW project, partners are using EBRI-developed technology to put waste at the forefront of the race to meet Europe's biggest energy challenges."
The Pyrofab burns organic waste materials to produce carbon neutral fuel and biochar, a commodity that can be used to improve soil. The conversion cycle has four main stages: preprocessing, pyrolysis, gasification, power generation. The pyrolysis stage exposes the "waste" materials to temperatures over 430°C at pressure to produce biochar, a type of charcoal, a mixture of oils and water, and a range of gases. Gasification separates out the gases to produce syngas, which can be used for power generation.
"The Pyrofab unlocks the potential of waste, producing sustainable carbon neutral bioenergy and biofuels," Bridgwater explained. "This has the potential to change a significant liability for businesses and local authorities across North West Europe into a home grown resource, to reduce waste management costs and generate new revenue streams through the derived products.
"It could also play a significant part in delivering Europe's environmental targets and improve energy security; making use of our own resources to reduce the need for imports."
Pyrofab has the ability to process a wide range of biomass, residues and wastes. This means that hard to treat sources of waste now have the potential to be used as a source, or feedstock, to produce low carbon energy. Feedstocks being tested include food waste, domestic waste, agricultural waste – such as pig manure, and industrial waste.
The European roadshow has been designed to demonstrate the portability of the Pyrofab units and show they can be set up anywhere, powered by existing generation technology. This enables feedstocks to be locally sourced and processed, reducing the environmental impact of transporting the materials to centralised processing plants. It also reduces reliance on imported biomass products and helps to protect Europe's energy supply because bioenergy generation in the Pyrofab relies on feedstocks that are constantly being produced.
First published on 1 Oct 2014: Professor Tony Bridgwater gives an introduction to pyrolysis